Navigating Music Technology
Implementing a practice-based application of music technology into music-based therapeutic interventions and professional training
In this groundbreaking handbook, Carola Werger, Marijke Groothuis, and Artur Jaschke investigate the various opportunities that music technology can bring to the profession, the field, and the development of music therapy in general. If we cannot master the instrument we play – here the music technology itself – we will not be able to help our clients make music with this medium. As music therapists, we often wonder how we can use technology in our everyday practice, how we can learn to use it effectively and last but not least, how we can incorporate music technology into the curricula of professional music-therapy education.
The book provides the theoretical framework in which the practices-based approach is imbedded, but it can also be used in education, as a guide in everyday clinical practice, as a collection of methods and approaches, and as a window into the practical use of music technology.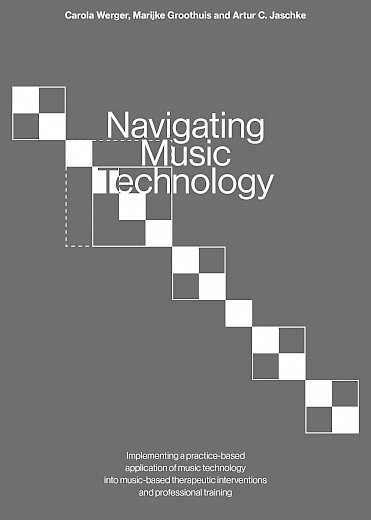 Specifications
2021, English ISBN 9789491444678 NUR
Author(s): Carola Werger, Marijke Groothuis, Artur Jaschke
Design: Michiel Terpelle
Pages: 256 p.
Dimensions: 15 × 21 cm
Binding: Paperback